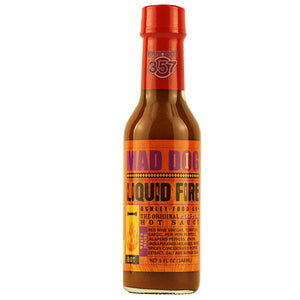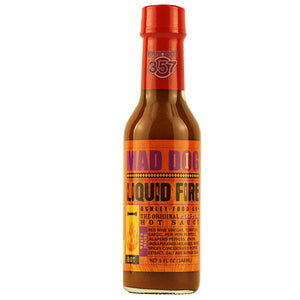 On Sale
Mad Dog Liquid Fire Hot Sauce 1-5oz
Get back to the roots of heat with the "original Peri-Peri" sauce that started it all!
This is the first hot sauce introduced by David Ashley in 1994. Mad Dog Liquid Fire, is a super-rich and flavorful sauce that has won the favor of heat seekers for over 25 years! A delicious tomato-based sauce that contains smoldering hot peppers, zesty garlic, and select, secret ingredients. 
Try it on Eggs, grilled meats, chicken wings, burgers, pizza, ramen, sushi, noodle dishes, dumplings and roasted veggies such as cauliflower and Brussels sprouts. Also a perfect partner for soups, chili, stews, and braises. In addition, use Liquid Fire as a marinade, salsa or condiment anytime you want a slow, smooth, spicy sting. Great in Bloody Marys as well! 40,000 SHU, 5 fl oz.
Ingredients: Vinegar, tomato paste, garlic, Bird's Eye peppers, Jalapeño peppers, onion, unsulphured molasses, herbs, spices concentrated pepper extract, salt, and xanthan gum.
Due to the EXTREME nature of these products, please read the following disclaimer:
Click HERE to read the disclaimer.
At Ashley Food Company, we do one thing. We make great-tasting and award-winning hot sauces, extreme hot sauces, and pepper extracts. We make each sauce in hand-measured, small batches to ensure incredible flavor and quality. All of our products are made in the USA, using only the finest, all-natural ingredients.
Watch Bill Moore review our "Liquid Fire!"