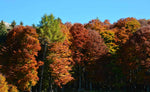 Every month is a good month for chili peppers.
We know it. You know it. But, November is an especially good month for chilies this year. Well, chilies, hot sauces, pepper purees, you name it.
November is, after all, National Pepper Month. And, we're going to take that as chili pepper. Why shouldn't we? Chili peppers are a lot more useful than the spice you throw onto eggs. Adding chili peppers and hot sauces transforms just about any dish from blasé to blazingly impressive with very little effort on your part.
November Foodie Holidays that Beg for Chili Peppers
Unlike some months that are laden with foodie holidays that call for chilies, November has only a few. The first of the month is National Bison Day. And, yes, they mean the bison that you eat, not the ones roaming in the wild that conjure images of territorial expansion. But, you can't get bison everywhere in the country, so you need to look a bit deeper into November for satisfaction. (Actually, due to modern supermarkets, you can get bison everywhere, but you're not going to find a lot of people happy to indulge in certain areas.)
On the second of November, it's National Deviled Egg Day. And, if the word devil doesn't tip you off, you should know that this dish demands something with a little fire. We prefer the hot stuff over a sprinkling of paprika, don't you?
And then, it's National Sandwich Day on the third of November. The sixth is National Nachos Day. We don't need to tell you how much both of these meals are enhanced by chili peppers, hot sauce, or both. (If we do need to tell you, it's likely that you've stumbled on the wrong page.)
Then, there's National Pizza with the Works Except Anchovies Day on the twelfth. We don't know what anchovies get such a bad rap, but we know that pizza absolutely calls for some chili peppers. Sadly, we doubt the kind your local pizza joint stocks will be fiery enough, so we're guessing you will need to whip out that bottle of Mad Dog.
November fourteenth is National Guacamole Day, and we certainly have you covered there. The sixteenth is National Fast Food Day; why not order the hottest damn thing you can find? You don't even need to get out of your car. It's entirely possible to make the guys working the drive-thru suffer while you blast the heater.
Chili Peppers Keep You Feeling Toasty
And, actually, that's a terrific reason to indulge in your favorite capsaicin-laden treats, isn't it? When you're feeling cold, you can easily toss a pepper or two into your mouth, and you'll be sweating in no time. That toasty feeling has everything to do with the thermogenic reaction chili peppers and hot sauces cause in your body.
November also brings us Thanksgiving (which should make you think of territorial expansion), and that's the perfect time to bring out the chili peppers. They'll stop you from overeating – and counteract the sleepy stuff in turkey. The following day, incidentally, is National "Eat with a Friend Day," and we all know it's our mission to spread the word about capsaicin, don't we?
And, if all that didn't make November the perfect month for chili peppers, we'll remind you that this year, they're the Herb of the Year. Yes, they have that title.
Now, it's time to get going on all that chili pepper eating. Why not check out our recipe blog if you need a few ideas to spur your meal planning.