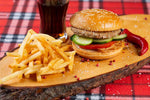 Remember Ghost Pepper fries?
How about all the other limited release items you've seen on fast food menus over the past two or three years. (If you can't think of any, use the word sriracha to jog your memory! You'll find chipotle or sriracha in probably half of the limited edition items you've seen recently.)
So, it really shouldn't be a surprise that there are more spicy fast food items that will appear on menus across the country throughout the spring and summer.
They're already beginning to emerge through rumored reports and social media leaks.
Of the fast-food items we already know about, here are just a few spicy options that may just tempt you into a heart attack (the capsaicin may be the only healthy thing in these items… sorry).
Burger King's Angriest Whopper – Remember the hamburger buns that turned everyone's excrement funny colors? Burger King hopes to top that experience with special red buns. This year's version has hot sauce baked into the bread (though we imagine a fair amount of food coloring goes into the recipe too). Besides the bun, the special Whopper has jalapeños and a super-spicy angry sauce. We can only imagine that whatever's in that livid sauce will help you to freak out when you need to use the bathroom after consuming one. Still, it's likely to be a hit - perhaps even bigger than the other spicy burger special offer.
Red Robin's Red Ramen Burger – This is something you really need to see to believe. And, it's what happens when you top a regular beef patty with a chili-pepper-infused slaw on a bun fashioned out of crispy ramen noodles. What? Yep, the gimmick on this burger is the ramen noodle bun, not the spicy slaw (though that's what we dig about it). If you want to experience this crazy, spicy offering, you only have until June 5. But, we wouldn't fret too much; we're sure there will be more unique options throughout the summer.
So, what else can we expect from spicy fast food over the next couple of months… you know, besides a bunch of items with the words sriracha and chipotle plastered all over them?
We'd bet that fast food and fast-casual establishments are scrambling to put together ethnic options – after all, it's one of the biggest food trends of the year. And that means we'll see ghost pepper featuring almost as frequently as sriracha and chipotle.