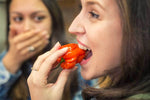 When it comes to hot peppers and hot sauce you may discover a clear favorite early on, or you may have a hard time choosing between several varieties.
After all, it's not a decision of one-size-fits-all. Most of us have our own particular taste, and we have to find just the right hot sauce to deliver that perfect tasting fit. That's because your own individual palate determines which hot sauce you like the best.
People who grew up eating spicy food and peppers likely already have an appreciation for the spicy taste, but for others, it takes some practice to get just the right amount of spice.
If you're new to the game, Tabasco sauce has been around for generations.
Sure it adds some flavor, but it's not really hot. Still, it's a low dose of spice that most people easily tolerate. If you're looking to spice things up a bit, there's the Sriracha. This hot sauce is ideal for those who crave some added spice but aren't yet ready to take it to the extreme. Of course, take heart that not every Sriracha sauce is the same, and some are definitely high on the scale. If your palate allows it, feel free to work up to some of the most extreme hot sauce flavors on the planet. These super hot flavors are packed with heat.
Of course, just like the delight of pairing the right wine with the right meal, pairing the right pepper or hot sauce with your meal can deliver an entirely new experience to help expand your palate. Some pepper experts suggest starting with a pepper you like, then adding in something different to broaden your enthusiasm for hot sauce. If you find one you like, you can always try some other similar hot sauces in the same line until you make the perfect match.