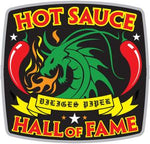 The hot sauce industry has grown tremendously in the past several years. Not only are the ever-increasing number of Scovilles in the hottest hot sauces, but you'll also find more bottles on the shelves every year.
The number of celebrities (and presidential candidates) that profess their love of all things chili are on the rise too.
And, you could spend days watching people eat the most astounding hot sauces and chili peppers and subsequently crying (at best) before you run out of options.
Hot Sauce Hall of Fame!
You just have to love that. We do, at any rate. This year, 2016, is a big year for the Hot Sauce Hall of Fame; it's only the second class to be inducted.
At the moment, there are 10 names competing for the five 2016 inductee positions. And guess what? Our own David Ashley, the founder of Mad Dog Hot Sauces, is one of them.
That's one hell of honor (and in case you're wondering, we did raise a glass of this Fiery Champagne to celebrate the nomination)!
Want to be the first to know who will be inducted into the next class of the Hot Sauce Hall of Fame? You'll need to get yourself over to the 4th Annual NYC Hot Sauce Expo in New York. The winner will be announced at this event in Brooklyn on April 23 at 2:00 p.m.
Even we don't know if we've made the cut or not (though we think David and the Mad Dog line of hot sauces are stellar whatever the results); the final call for ballots only happens on March 15.
Voting is limited to those within the fiery foods industry that has been in business for at least three years. That means chili pepper producers, exporters, distributors, and the like. The average chili head, sadly, doesn't qualify, even if your spouse believes you're single-handedly keeping the hot sauce industry alive. (We know a lot of you are close to doing just that.)
Win or Lose…
We're absolutely honored to have been nominated for this superb award and we know just how hot the competition is (pun intended). And we're sure to see a lot of you in NYC this April. After all, the awards are just one reason to go; it's really all about the taste and sensory explosion, right?