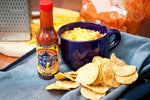 Mad Dog 357 + Tortilla Chips = Love
You know what tortillas are, right? They're the flatbread you wrap around everything. Sometimes they become tacos. At other times, they become burritos or quesadillas. And, when you stick something else in the center, you call it a wrap (we're not entirely sure who determined what's a burrito and what's a wrap, but we're not terribly concerned about that - unless you are, of course.) Once you know what a tortilla is, understanding tortilla chips are easy. And, if you're a fan, then you have to celebrate with the rest of the country on February 24th; that's National Tortilla Chip Day.
The Origins of the Tortilla Chip
Creating tortilla chips from tortillas was a bit of an accident. You see, once upon a time, tortillas were handmade. And that's a mission. It's not that it's particularly arduous, just that it's time-consuming. So, if you had a job in tortilla manufacturing, you would have been looking for any way to make that process easier. When automated machinery hit the market, it was a big deal, even if it wasn't perfect. In fact, these machines were pretty far from perfect. They would create plenty of scraps.
In the 1950s, Rebecca Webb Carranza owned the El Zarape Tortilla Factory (unsurprisingly in LA). And rather than throwing away profits (erm, scraps), she cut them into triangles, fried them and sold them for ten cents a bag. Brilliant, right? Now it's hard to imagine life without these glorious snacks.
Are Corn Chips and Tortilla Chips the Same?
Nope. Corn chips and tortilla chips may have the same ingredients, but they're manufactured differently. (And, usually, they have different ingredients.) Tortilla chips, like Doritos, are manufactured as tortillas, cut into triangles and then fried (or baked). Corn chips are processed into a particular shape (think Fritos).
What's the main difference? Corn chips are best for scooping salsa. Tortilla chips are more like mini tostadas and most often used for nachos. But, we're not in the tortilla biz, so we're not exactly sure that there's any other difference than that. Realistically, you can substitute one for the other if it's a salsa emergency. Well, you can most of the time. On National Tortilla Chip Day, you may need to stick with Tortilla Chips.
How to Celebrate National Tortilla Chip Day
If you're a chili head, you may have always thought of tortilla chips (and corn chips) as a vehicle to get the stingingly strong burn of super hot sauce into your mouth. And, that's a good way to think of them. It's certainly how we plan to celebrate National Tortilla Chip Day this year (and every year).
Fortunately, we're stocked up with salsas and dips to make it easy for you to do the same. Just take a look at these tasty ways to enjoy tortilla chips and Mad Dog on February 24th.
Mad Dog Green Amigo Killer Guacamole - grab a few avocados and a bottle of Mad Dog Green Amigo for the most delicious (if not killer spicy) guacamole you can imagine.
Mad Cat Hot Sauce Salsa - You can enjoy this hot sauce on its own, but it was almost designed to create the perfect salsa (and that makes it perfect for National Tortilla Chip Day).
Mad Dog Tequila Pico - Need something that screams party (and a fair amount of heat too)? This is the salsa you want. Promise.
Game Day Ghost Dip - If you're in need of the ultimate Mad Dog dip, you've just found it. This baby is hot as anything, but oh so addictive.
So, how are you celebrating National Tortilla Chip Day? If it involves a Mad Dog spread, we'd love to hear about it!