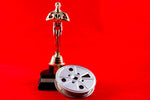 While the red carpet is buzzing about who is wearing who and who is dating who, we're most concerned about who likes it spicy…and even those who don't.
Here is a list of some of your nominated actors and actresses who are turned on or turned off by hot and spicy foods:
Natalie Portman: Best Actress for Jackie ~ A pregnant Portman was seen at NYC's Cafe Mogador eating some tasty breakfast dishes like Moroccan eggs with spicy tomato sauce, merguez sausage, and other foods with a kick — which are said to help pregnant women close to their due dates go into labor. - via In Touch Magazine
Ryan Gosling: Best Actor for La La Land ~ Is a frequent diner at Los Angeles' Jitlada, a spicy Southern Thai restaurant. Dishes include Spicy Mint Noodles and Spicy Basil Eggplant.
Emma Stone: Best Actress for La La Land ~ Tells Rolling Stone Magazine, "I can't have spicy foods," Stone says. The issue, it turns out, is that part of her stomach protrudes "into my esophagus," which sounds gnarly but is actually pretty manageable, increased chances of acid reflux notwithstanding. "I was born with it," Stone notes cheerfully. She snaps apart her chopsticks. "I was like a little old man as a young lady."
Denzel Washington: Best Actor for Fences ~ Loves curry and cayenne spices and even has his own recipe for Chicken Curry.
Nicole Kidman: Best Supporting Actress for Lion ~ Kidman told Food & Wine Magazine that one of her favorite meals was Oven-Roasted Lamb Chops with Mint & Jalapeño Chimichurri sauce.
Watch the Oscars on ABC February 26th and become your own best actor by dousing some Mad Dog 357 hot sauce on your Oscar-viewing snacks.