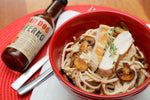 You don't need Tony Robbins for motivation you need chipotle peppers!
Before life begins to disappoint you at 9 am, wake up with optimism by preparing a hearty breakfast for yourself.
Relax before the weekday grind with a cup of hot joe, scrambled eggs, and a haystack of hash brown potatoes.
Your inner lumberjack will let out a brawny "Yodle lay hee hoo" as you open your S&P 50087 app and see the stock market is way down, but don't care because you only invest in new pairs of underwear and socks every six months.
Life is simple…and so are those damn eggs and hash browns you just whipped up for yourself in an attempt to make it seem like you got your life together before going into the office.
But no worries, because you have a secret Mad Dog arsenal in your fridge
Mad Dog Inferno Hot Sauce is a flavorful sauce with a mild kick perfect for your morning wake up meal. A little dash on your eggs, a little shake on those hash browns and you'll be screaming outside your window to the streets below, "I Am Alive!".
The habanero and jalapeño peppers, the biting garlic, and the 3 million Scoville pepper extract with added chili spices are like a menage-a-trois of bombastic amazingness in your mouth. It's like your tongue climbed to Mt. Everest and tasted victory.
Studies have shown that adding hot sauce to your breakfast can help wake you up, awaken your senses, and start your morning with an elevated mood.
Try Pairing Some of These Breakfast Choices with Mad Dog Inferno Hot Sauce: