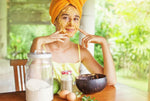 Ready. Set. Glow
Our skin is the most important living organism on our bodies and since it's with us for a lifetime, we need to do our best to take care of it. Peppers are a great source of antioxidants and can help increase blood flow and circulation to your skin. It can also help to prevent and clear up acne. With the healthy doses of vitamin C and vitamin E, it contains, a Hot Pepper Mask is just the thing to get your skin bright and glowing!
Here are 3 recipes to get you started, for best results leave each mask on for 3-5 minutes!
Cayenne Pepper Mask
1/2 avocado
1 teaspoon of cayenne pepper (1/2 for sensitive skin)
1 teaspoon of raw cacao powder
Mix raw cacao and cayenne pepper, then add avocado and blend until smooth.
Coconut-Chili Mask
2 tablespoons of coconut oil
1/2 teaspoon of real lemon juice
1 teaspoon of raw honey
1 tablespoon of ground coffee
1/2 teaspoon of chili flakes
1/2 teaspoon of cinnamon
Mix together in a bowl until smooth.
Paprika Mask
1 tablespoon jojoba oil
1/2 tablespoon of almond meal
1 teaspoon of paprika
Mix almond meal and paprika together then slowly add oil until the mixture is smooth.
Make sure to contact your dermatologist before trying any new face masks. Some people with sensitive skin may find peppers mixed into a mask to be too strong. It's always best to do a test on a small area of your face first.