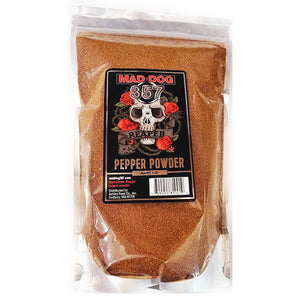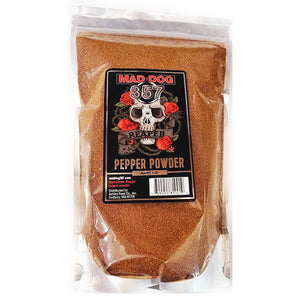 On Sale
Mad Dog 357 US Grown Carolina Reaper Pepper Powder - 1 lb - 1,383,000 Scoville
The Carolina Reaper was certified by the Guinness Book of World Records as the hottest pepper in the world.
Grown, dried and ground Massachusetts and tested at 1,383,000 Scoville HPLC 

People describe Carolina Reaper as having a distinctive smokey taste with a slow and steady increase in spiciness. Using only a small amount will add a significant amount of satisfying spiciness.

Our Carolina Reaper Powder is delicious and tremendously spicy - a small dash can easily be used in most dishes.
Due to the EXTREME nature of these products, please read the following disclaimer:
Click Here to read the disclaimer.
At Ashley Food Company, we do one thing. We make great-tasting and award-winning hot sauces, extreme hot sauces, and pepper extracts. We make each sauce in hand-measured, small batches to ensure incredible flavor and quality. All of our products are made in the USA, using only the finest, all-natural ingredients.