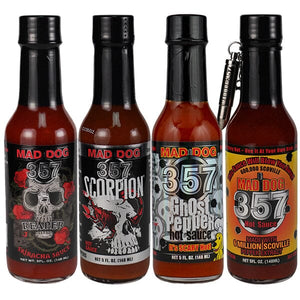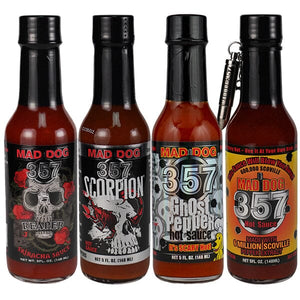 On Sale
Anti Freeze Mad Dog Hot Sauce Gift Pack
ANTI-FREEZE EXTREME
 

- overall on the EXTREME hot side!
Four of our HOTTEST sauces in one gift pack!
The perfect gift for the chili head in your life! Contains Mad Dog 357 Collector's Edition, Mad Dog Inferno, Mad Dog 357 Scorpion, and Mad Dog 357 Ghost Pepper Hot Sauce.
The Mad Dog 357 Collector's Edition will frighten you with its 600,000 SHUs. It's part of the heavyweight crown-holding line of the World's Hottest Hot Sauces ever made. One taste and you'll know why there's a golden bullet on a key chain, fastened to the bottle. Get ready to brag, this was the first hot sauce created with HPLC-tested 6,000,000 Scoville Pepper Extract. 5 fl oz.
Ingredients: Distilled vinegar, 6 million Scoville chile extract, evaporated cane juice, fresh Habanero peppers, garlic, onion, 160,000 Scoville Cayenne pepper, spices, and xanthan gum.
Mad Dog 357 Reaper Sriracha: You may have tried Sriracha sauce, but never like this.Just one drop of this sauce and you'll imagine Death in his black hood standing over your shoulder, scythe in hand, ready to transport you to a world beyond this one. This sauce doesn't tiptoe across your tongue the way other Sriracha sauces do; it will pounce.
Ever tasted a dash of Sriracha and wished there was a lot more bite to this delicious sauce? Mad Dog 357 Reaper Sriracha Sauce, is a powerful mix of an incredible burn with the wonderful sweetness that only chilies and garlic can create.
Ingredients: Red Jalapeño puree (red Jalapeño, salt, acetic acid), Cayenne sauce (aged Cayenne peppers, distilled vinegar, salt, xanthan gum, garlic), natural sugar, Carolina Reaper peppers, garlic, and xanthan gum.
Mad Dog 357 Scorpion: Think you like your hot sauce intense? Imagine being bitten by a scorpion - in your mouth! It's one of the most severe pains a human can experience. The Trinidad Moruga Scorpion pepper became the world's hottest pepper in spring 2012, and this sauce is loaded with it. That, and the Ghost that will send shivers through your body 5 fl oz. Give your taste buds a fun ride - as they burn to a crisp.
Mad Dog 357 Ghost Pepper Hot Sauce: If you'd opened the Guinness Book of Records a few years ago, you'd have seen the Ghost Pepper. (Though now you'll find the Carolina Reaper in the hottest spot.) But since you can't taste a book, taste this. You'll see just how scary 1 million + SHUs can be. But be careful. Or should we say bhut be careful? Mad Dog 357 Ghost Pepper Hot Sauce may take more than just your breath away. 150,000 SHU, 5 fl oz.

Due to the EXTREME nature of these products, please read the following disclaimer:
Click HERE to read the disclaimer.
At Ashley Food Company, we do one thing. We make great-tasting and award-winning hot sauces, extreme hot sauces, and pepper extracts. We make each sauce in hand-measured, small batches to ensure incredible flavor and quality. All of our products are made in the USA, using only the finest, all-natural ingredients.