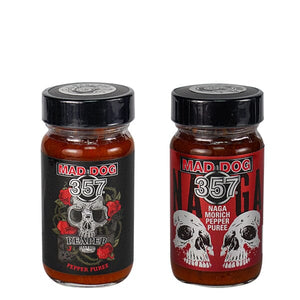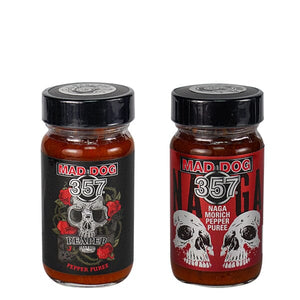 On Sale
Mad Dog 357 Pepper Puree Two Jar Hot Pack
Massachusetts Grown.
Use with extreme caution!
Contains one 2oz bottle each of:

Mad Dog 357 Carolina Reaper Pepper Puree: This pepper puree is pure heat mixed only with 200- grain vinegar

Mad Dog 357 Naga Morich Pepper Puree:  The pure burn of Naga peppers mixed with 200-grain vinegar isn't a fleeting fear you can escape.
Due to the EXTREME nature of these products, please read the following disclaimer:
Click HERE to read the disclaimer.
At Ashley Food Company, we do one thing. We make great-tasting and award-winning hot sauces, extreme hot sauces, and pepper extracts. We make each sauce in hand-measured, small batches to ensure incredible flavor and quality. All of our products are made in the USA, using only the finest, all-natural ingredients.