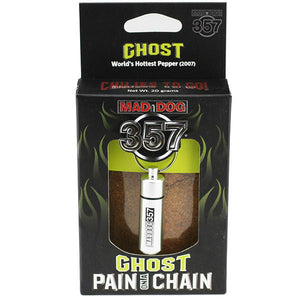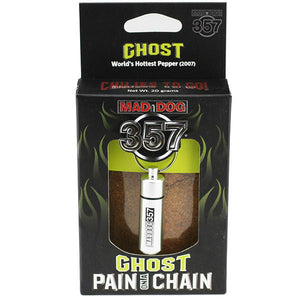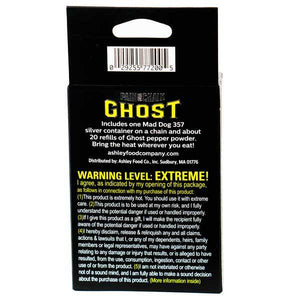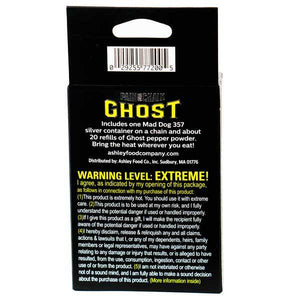 On Sale
Mad Dog 357 Pain on a Chain Ghost
You'll never want to leave home again without our Mad Dog 357 Pain on a Chain:
Ghost. Packed with one of the world's hottest peppers, this pure Ghost Pepper powder, and capsule keychain makes it easy to spice up any meal, anytime. It's the kick of flavor you need to take your dining to the next level. To guarantee heat purity, Pain on a Chain: Ghost is produced in our own chili pepper mill. You'll find it available in our special blend of No Escape and Reaper Pepper as well.
Includes a Food Grade capsule keychain and about 20 refills.
Ingredients, Custom Ground Whole Ghost Pepper Pods to a 30 grind Ghost pepper powder,
20 grams
Due to the EXTREME nature of these products, please read the following disclaimer:
Click HERE to read the disclaimer.
At Ashley Food Company, we do one thing. We make great-tasting and award-winning hot sauces, extreme hot sauces, and pepper extracts. We make each sauce in hand-measured, small batches to ensure incredible flavor and quality. All of our products are made in the USA, using only the finest, all-natural ingredients.