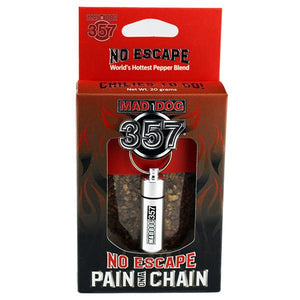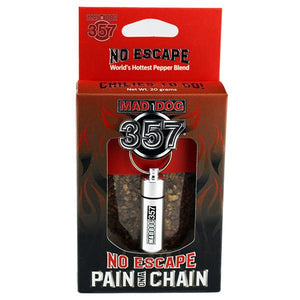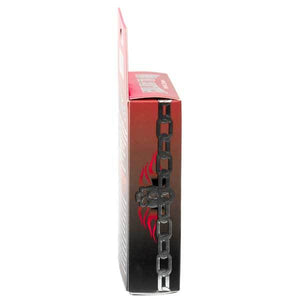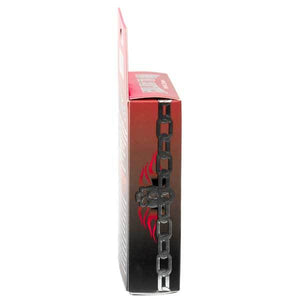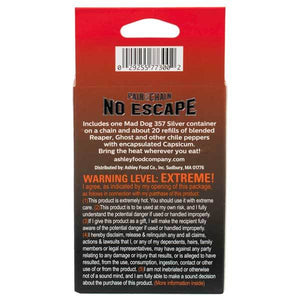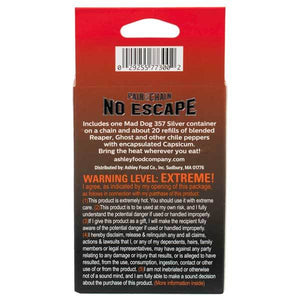 On Sale
Mad Dog 357 Pain on a Chain No Escape
For the extreme, our Mad Dog 357 Pain on a Chain: No Escape is a flaky combination of different super-hot peppers to make for an extremely spicy dish additive.
Pain on a Chain: No Escape comes boxed with a pouch of our very own pepper blend and a capsule keychain to bring the spice with you on the go. No Escape is the world's hottest pepper blend created using our own farm grown peppers and an encapsulated capsicum powder that is 10% pure capsicum for a whopping 1,600,000 Scoville of added heat.
Includes a Food Grade capsule keychain and about 20 refills.
Ingredients, Reaper, Ghost, Scorpion, and concentrated pepper extract may also contain Butch T's, Red, Yellow, and Chocolate Morugas.
20 grams.
Due to the EXTREME nature of these products, please read the following disclaimer:
Click HERE to read the disclaimer.
At Ashley Food Company, we do one thing. We make great-tasting and award-winning hot sauces, extreme hot sauces, and pepper extracts. We make each sauce in hand-measured, small batches to ensure incredible flavor and quality. All of our products are made in the USA, using only the finest, all-natural ingredients.