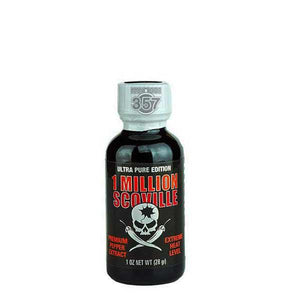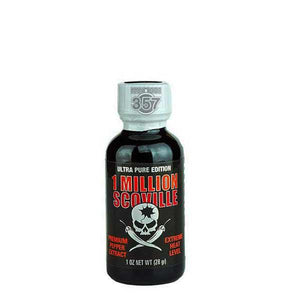 On Sale
Mad Dog 357 ECO 1 Million Scoville Ultra Pure Pepper Extract
Taste the quality and purity of an extract with ECO 1 Million Scoville Extract.

Ethanol Chile Oil (ECO) is a special version of our famous 1 Million Scoville Extract using alcohol in our extraction process that ensures a pure end product It's been a long time since an extract was made this way, but it's worth it! Our ECO 1 Million Scoville is the same great recipe, delivered in a cleaner way.
We spared no expense in the development of this product and we could not be happier with the result.
High on taste, this product doesn't contain any of those harsher flavors you expect from an extract but has a smoky and roasted aroma and flavor.
Ingredients: Chilies
NT. WT.1OZ.
Due to the EXTREME nature of this product, please read the following disclaimer:
Click HERE to read the disclaimer.
At Ashley Food Company, we do one thing. We make great-tasting and award-winning hot sauces, extreme hot sauces, and pepper extracts. We make each sauce in hand-measured, small batches to ensure incredible flavor and quality. All of our products are made in the USA, using only the finest, all-natural ingredients.