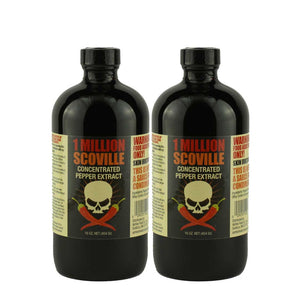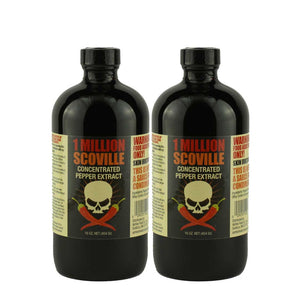 On Sale
1 Million Scoville Pepper Extract 16oz - 2 Bottle Pack
Welcome to the scorching world of the 1 Million Scoville Pepper Extract, now available in a convenient 2-pack of 1 lbs bottles!
Designed specifically for restaurants and manufacturers, this extract is the ultimate tool to bring fiery heat to your culinary creations. Brace yourself for an intense flavor experience that will leave your taste buds tingling with delight.

The 1 Million Scoville Pepper Extract is a verified powerhouse of heat, boasting an accurate Scoville rating of 1 million units. This extract is meticulously crafted to concentrate the potent capsaicin content found in chili peppers, ensuring maximum heat intensity for your dishes. Each drop of this extract is carefully measured and verified to deliver consistent and reliable heat levels.

With its generous 1 lbs bottles, this 2-pack is the perfect choice for restaurants and manufacturers who require a substantial supply of high-quality heat. The extract is made from a blend of carefully selected, top-tier chili peppers, including the Carolina Reaper, Trinidad Moruga Scorpion, and Bhut Jolokia (ghost pepper). These peppers are known for their exceptional heat, guaranteeing that your dishes will pack a fiery punch.

The 1 Million Scoville Pepper Extract has gained recognition and acclaim in the culinary world. Its authenticity and verified heat have been rigorously tested, ensuring that you receive a product that lives up to its reputation. As a restaurant or manufacturer, you can trust that you are using a premium extract that will consistently deliver the intense heat your customers crave.

Whether you're looking to create sizzling hot sauces, fiery marinades, or heat-infused recipes, the 1 Million Scoville Pepper Extract is your go-to ingredient. Its versatility allows you to control the level of heat in your dishes with precision, providing your customers with an unforgettable spicy experience.

With the 2-pack of 1 lbs bottles, you have an ample supply of the 1 Million Scoville Pepper Extract to meet the demands of your restaurant or manufacturing needs. Each bottle is carefully sealed to preserve its freshness, ensuring that you have a long-lasting heat solution at your disposal.

Ignite your culinary creations with the intense heat of the 1 Million Scoville Pepper Extract. Elevate your dishes to new levels of spiciness and satisfy the heat-seeking palates of your customers. Are you ready to unleash the fiery power of this verified and trusted extract in your restaurant or manufacturing facility? The heat awaits!
Certified by HPLC A.O.A.C. and guaranteed to deliver 1,000,000 Scoville Units (+/- 5%).
CAUTION: As with all our extracts, do not get this extract on hands or spray it where kids or pets are playing! Customers who use this as a deer repellent should not spray near children or where children will play. Wear safety glasses and gloves at all times and make sure that this pepper extract does not come in contact with the body.
Due to the EXTREME nature of this product, please read the following disclaimer:
Click HERE to read the disclaimer.
Please note, you WILL have to warm the bottle to 140 ℉ (60 °C) to remove the pepper extract from the bottle.
At Ashley Food Company, we do one thing. We make great-tasting and award-winning hot sauces, extreme hot sauces, and pepper extracts. We make each sauce in hand-measured, small batches to ensure incredible flavor and quality. All of our products are made in the USA, using only the finest, all-natural ingredients.