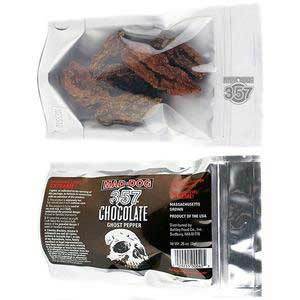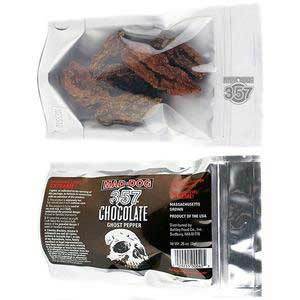 On Sale
Mad Dog 357 Chocolate Ghost Pepper Pods 7 grams
Mad Dog 357 Chocolate Ghost Pepper Dried Pods  
Locally grown in Massachusetts.
Tested at over 900,000 Scoville
 Mad Dog 357 Chocolate Ghost Pepper Pods 7 gram pack. The Ghost pepper emerged as a record-setting pepper when it burst onto the scene in 2007, rating at just over 1,000,000 Scoville Heat Units. Although the Ghost pepper is no longer the hottest pepper in the world, it's still as popular as ever. The name Ghost pepper simply comes from the pepper's official Indian name, the Bhut Jolokia. Bhut in Indian means "ghost." This is the chocolate variety, which is brown.
Due to the EXTREME nature of this product, please read the following disclaimer:
Click HERE to read the disclaimer.

At Ashley Food Company, we do one thing. We make great-tasting and award-winning hot sauces, extreme hot sauces, and pepper extracts. We make each sauce in hand-measured, small batches to ensure incredible flavor and quality. All of our products are made in the USA, using only the finest, all-natural ingredients.