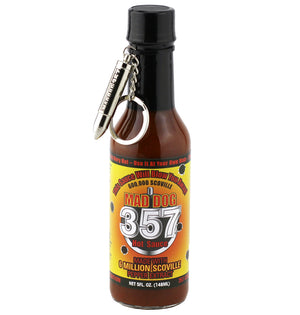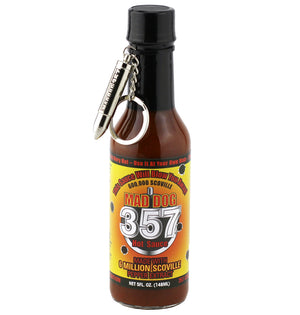 On Sale
Mad Dog 357 Collector's Edition 1-5oz
Super Charged ~ 600,000 SHU
Mad Dog 357 Collector's Edition Hot Sauce | Mad Dog 357
The Mad Dog 357 Collector's Edition will frighten you with its 600,000 SHUs. It's part of the heavyweight crown-holding line of the World's Hottest Hot Sauces ever made. One taste and you'll know why there's a silver bullet on a key chain, fastened to the bottle. Get ready to brag, this was the first hot sauce created with HPLC-tested 6,000,000 Scoville Pepper Extract.
This sauce naturally falls into the category of super hot must-haves for anyone demanding record-breaking heat. (And, don't forget to open that key chain; there's an extra surprise inside.) 5 fl oz.
Ingredients: Distilled vinegar, 6 million Scoville chile extract, evaporated cane juice, fresh Habanero peppers, garlic, onion, 160,000 Scoville Cayenne pepper, spices, and xanthan gum.
Due to the EXTREME nature of this product, please read the following disclaimer:
Click HERE to read the disclaimer.
At Ashley Food Company, we do one thing. We make great-tasting and award-winning hot sauces, extreme hot sauces, and pepper extracts. We make each sauce in hand-measured, small batches to ensure incredible flavor and quality. All of our products are made in the USA, using only the finest, all-natural ingredients.