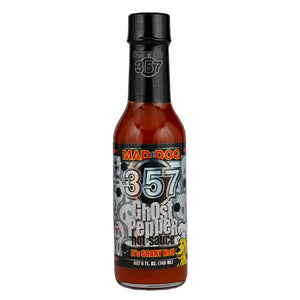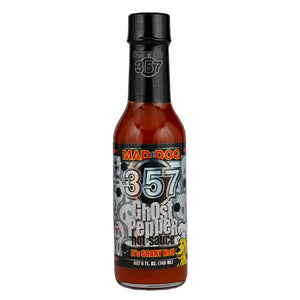 On Sale
Mad Dog 357 Ghost Pepper Hot Sauce 1-5oz
Mad Dog 357 Ghost Pepper Hot Sauce | Mad Dog 357
Ever seen a ghost?
One taste of Mad Dog 357 Ghost Pepper Hot Sauce and you will - your own! Made with one of the world's hottest chile peppers, the Bhut Jolokia, this isn't just super hot, this is screaming killer hot. Are you afraid? Where's your spirit?
If you'd opened the Guinness Book of Records a few years ago, you'd have seen the Ghost Pepper.
(Though now you'll find the Carolina Reaper in the hottest spot.) But since you can't taste a book, taste this.  But be careful. Or should we say bhut be careful? Mad Dog 357 Ghost Pepper Hot Sauce may take more than just your breath away.  This sauce also boasts a unique holographic label with ghosts that appear to jump off the bottle. Combined with the fact that the warning label reads loud and clear about the extreme caution, it's easy to see why this sauce will have people seeing their own ghost.
150,000 SHU, 5 fl oz.
Try it on Eggs, pizza, fish tacos, burritos, sushi, grilled meats, grilled vegetables, fried chicken, fried rice, noodle dishes.
Ingredients: Distilled vinegar, chile extract, evaporated cane juice, fresh Habanero pepper, Ghost Pepper, garlic, onion, 160,000 Scoville Cayenne pepper, spices, and xanthan gum.
Due to the EXTREME nature of this product, please read the following disclaimer:
Click HERE to read the disclaimer.
At Ashley Food Company, we do one thing. We make great-tasting and award-winning hot sauces, extreme hot sauces, and pepper extracts. We make each sauce in hand-measured, small batches to ensure incredible flavor and quality. All of our products are made in the USA, using only the finest, all-natural ingredients.