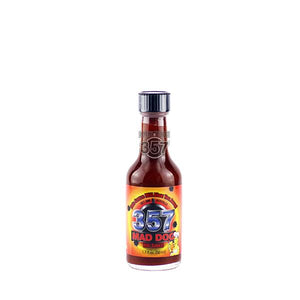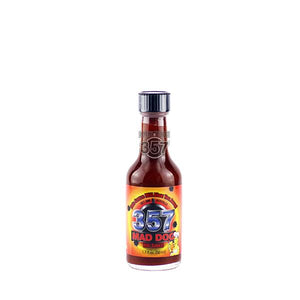 On Sale
Mad Dog 357 Hot Sauce Mini 1-1.7oz
The Mini Original Mad Dog 357!
357,000 SHU
This killer sauce is packing 357,000 Scoville Heat Units (SHUs). One hit will blow you away! Don't even think you can handle this heat gracefully. With a blend of 160,000 SHU Cayenne peppers, fiery hot red Habanero peppers, and a whopping 3,000,000 Scoville pepper extract will provide a tantalizing tingle from your tongue to your toes. 357,000 SHU, 1.7 fl oz.
Try in on Eggs, pizza, burgers, tacos, burritos. Add a drop or two in chili, soups, and stews.
Ingredients: Distilled vinegar, 3 million Scoville chile extract, evaporated cane juice, fresh Habanero peppers, garlic, onion, 160,000 Scoville Cayenne pepper, spices, and xanthan gum.
Due to the EXTREME nature of this product, please read the following disclaimer:
At Ashley Food Company, we do one thing. We make great-tasting and award-winning hot sauces, extreme hot sauces, and pepper extracts. We make each sauce in hand-measured, small batches to ensure incredible flavor and quality. All of our products are made in the USA, using only the finest, all-natural ingredients.