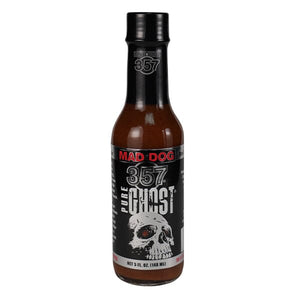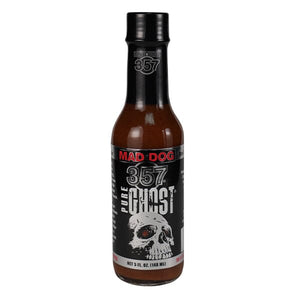 On Sale
Mad Dog 357 Pure Ghost Hot Sauce 1-5oz
Ghost Hot Sauce | Mad Dog 357
The Ghost, a.k.a. phantom, spirit, apparition.
No matter what you call it, the ghost is worth fearing, and for good reason. You never see it coming, and then it hits you.
We salute this truly diabolical specter with Mad Dog 357 Pure Ghost Sauce. Carefully crafted with one of the world's hottest peppers, the Ghost Pepper aka Bhut Jolokia, this sauce delivers hauntingly pure heat with a killer sting only a ghost can deliver. And not even a whisper of extract. After all, when you're as stealthy as a ghost, you're as scary as you need to be. Enjoy the flavor, but never stop fearing the ghost.
This slightly sweet, savory, tangy, and spicy sauce gets all its heat from the peppers in the bottle. We haven't added any extracts, 5 fl oz.
You never see it coming, and then it hits you.
Try it on: Grilled Ham & Cheese Sandwiches, Chicken Wraps, Burgers, Pulled Pork, Ribs, Shrimp Tacos, Ramen, Eggs, Curry Dishes, Fried Rice, Chicken Wings, Pizza, and any Mexican or Indian cuisine.
Ingredients: Distilled vinegar, evaporated cane juice, fresh Habanero pepper, Ghost Pepper, garlic, onion, 160,000 Scoville Cayenne pepper, spices, and xanthan gum.
Due to the EXTREME nature of this product, please read the following disclaimer:
Click HERE to read the disclaimer.
At Ashley Food Company, we do one thing. We make great-tasting and award-winning hot sauces, extreme hot sauces, and pepper extracts. We make each sauce in hand-measured, small batches to ensure incredible flavor and quality. All of our products are made in the USA, using only the finest, all-natural ingredients.
Watch Bill Moore review our "Pure Ghost!"