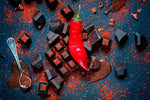 Hot Chiles & Chocolate
Peanut Butter & Jelly. Cheese & Crackers. Coffee & Cream. Nothing can break up these famous foodie friendships and that's the same way we feel about Hot Chiles & Chocolate. Like a fine wine and a stinky cheese, pairing wine with chili peppers and chocolate have the same form of sophisticated palate pairing.
You can pair them separately or you can include chili peppers in your favorite chocolate recipes like brownies or even hot chocolate.
Here's a quick guide on how to pair up these lifelong friends:
• Chipotle & Dark Chocolate: Enhance the smokiness of both
• Aleppo & Chocolate with Nuts: Brings out the complex flavors
• Cascabel & Chocolate Cocoa: The combo for your dessert recipes
• Ancho & Dark Chocolate: A good blend to make mole sauce
• Cayenne Pepper & Cocoa Powder: Make an awesome rub for grilling meats
• Guajillo & Light, Mild Chocolate: A tangy sauce over fruit, berries
If you needed another reason to pair these two superfoods, take a look at the amazing benefits of both chocolate and chiles.
• dark chocolate is filled with antioxidants
• chile peppers have a good dose of vitamin C to boost immunity
• dark chocolate is loaded with vital minerals including magnesium
• chile peppers can help clear congestion in the sinuses thus helping with migraines and sinus headaches
• dark chocolate can help circulation and help improve blood flow to the brain
Try these recipes MadDog357 recipes:
Valentine's Day Chocolate Bars
Mad Dog's Fiery Chocolate Cupcakes