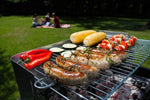 As you well know, there are heaps of foodie holidays on the calendar.
In fact, there's damn near one for every day of the year. And, there are plenty of days with a couple of different dishes to enjoy. You can pick just about anything you enjoy and build a meal plan around it.
Well, you could; except, there are plenty of dessert days on the menu every month.
Take August as an example. The foodie holidays begin like this:
1 – National Raspberry Cream Pie Day
2 – National Ice Cream Sandwich Day
3 – National Watermelon Day
4 – National Chocolate Chip Cookie Day
5 – National Oyster Day
6 – National Root Beer Float Day
7 – Raspberries 'n Cream Day + National IPA Day + International Beer Day
8 – National Frozen Custard Day + National Zucchini Day
Look at that for a moment. The first two foodie days are desserts, and there's no way around that. It gets a little better with National Watermelon Day. (We could imagine a tangy watermelon salsa mixed with Mad Dog to make that an interesting day.) Then it's back to dessert.
We get a little bit of leeway with National Oyster Day (if that's something you can afford to celebrate). And then it's right back to dessert.
The seventh is a ridiculously interesting day as it mixes beer with raspberries and cream. (We suggest starting with one and finishing with the other; the order is up to you.) And the eighth is equally strange with zucchini and frozen custard. (Though you could, arguably, have a lovely zucchini and Mad Dog pasta followed by a trip to the local frozen custard joint.)
So, it wouldn't be as much about planning a weekly meal plan as it would planning your desserts. (And, that's not necessarily a bad thing.)
National Hot and Spicy Food Day

However, we really love picking one or two (or more) foodie holidays every month to seriously enjoy from a chili lover's point of view.
With National Hot and Spicy Food Day on August 19th, we're obviously going to go with that one. Other possible celebratory days include:
11 – National Panini Day
13 – National Filet Mignon Day (again, if you can afford it)
16 – National Bratwurst Day
20 – National Bacon Lovers Day
27 – National Burger Day
As you can see, there is potential in the month of August. The days for brats and burgers are nicely spread so you can easily enjoy both without feeling at all guilty. But, let's be honest, it's all about the bacon, isn't it?
And, since it's the day after National Hot and Spicy Food Day, we strongly suggest you just combine the two and party on through the night. That's something you could totally plan a menu around. And, if you're looking for ideas, we'd suggest:
So what are you doing this National Hot and Spicy Food Day? And for any other foodie holidays this August?