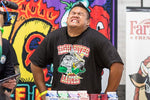 Last year was the first, but the California Hot Sauce Festival was so good that it was never going to be the last. (As if we needed more proof that chili head numbers are growing exponentially!)
On July 16th and 17th, Long Beach will be hotter than it's ever been before – and we don't mind saying that's not easy to achieve.
Hot sauce festivals are taking off all over the country and the world, and it's easy to understand why. As much as people can't enough chili peppers, hot sauces are making their mark in the world. The 2nd Annual California Hot Sauce Festival features plenty of tastings (and opportunities to buy your favorite sauces). There's also a bar brimming with craft beers to help cool fiery mouths and plenty to see.
If you're more of a joiner, this is the West Coast's chance to beat New York's Reaper challenge. If you manage it, you'll be able to see your name in the Guinness Book of World Records (though you may be wondering if you'll ever see anything again after pumping your belly full of that much capsaicin). Wayne Algenio is definitely going to be a tough act to beat (and claims he won't attempt another record until someone beats his current one.
And, of course, there are fiery food challenges with burritos and tacos taking center stage on Saturday. So, if you can't stomach the idea of swallowing Reapers, you can still do your best with Ghost Peppers.
The Bloody Mary Mix-Down shares space with the expo. The best Bloody Mary mixer receives a cash prize and a flight to next year's New York nationals competition. (Hint: our Mad Dog Bloody Mary's are brilliant. But it's all in the mixing, isn't it?)
Basically, it's going to be one of the biggest weekends in any chili head's life and it's time to book tickets before they disappear. You can buy them online, and prices begin at $10. You'll be able to taste and sample to your heart's content, but you can plan to shell out a little more money for food and drinks. There are packages that include drinks, t-shirts, and complimentary hot sauces, but you can expect to pay $100 for VIP entrance. (It's worth it for serious hot sauce lovers!)
If you happen to be anywhere near Long Beach during California's 2nd Hot Sauce Festival, it's a must-do. Doors open at 10 a.m. and close at 6 p.m. both days. And, really, how much more could you really handle? You may think you could do more, but wait until you're begging for mercy on the day!