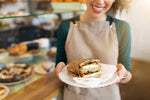 August is National Sandwich Month and that shouldn't sound a bit silly to you. 
After all, you should consider all the other fun holidays that Americans celebrate, such as "Talk Like a Pirate Day."  That, incidentally, you should celebrate by enjoying your meals with Mad Dog Pure Ghost Hot Sauce.  We're not sure why, but they go together perfectly.  And, if you can speak like a pirate for a whole day, well, we support that too.
But, back to National Sandwich Month. 
Unlike pirate speak, you can probably achieve eating a sandwich every day for an entire month.  After all, there are breakfast sandwiches to start the day, subs made with cold cuts for lunchtime, and Po' Boys for supper.  There are simple sandwiches to take to the office and fancy ones that you're willing to pay a lot of money to eat at a restaurant.
If you're going to eat a sandwich every day though, you've got to prepare yourself properly.  Otherwise, you'll get terribly bored.  (And, there's a fair shot that you can't swallow even one plain bologna sandwich.)  You've got to get organized.  And that means buying the proper condiments.  Your choices are wide open, of course, but there is one additive that works on any sandwich… hot sauce.  (Yes, even on PB&J; think about it for a moment.)
You'll probably want to start with a bottle of that Mad Dog Pure Ghost Hot Sauce, simply because you'll need it for talk like a pirate day (September 19th, in case you were concerned).  But, you shouldn't stop there.  You'll also want a bottle of Mad Dog Inferno and a bottle of the classic Mad Dog 357 Hot Sauce.  Indeed, you should probably get your hands on a pack of Blazing Endorphins.  With these, you should be able to sail through just about any special commemorative day, including ALL CAPS DAY.  And why not?  Mad Dog Hot sauce always tends to make things better.
And, if you are on a mission to eat a sandwich every day for the rest of the month, we think you should make an effort to try as many different ones as you can.  After all, sloppy joes are considered a sandwich…. somehow.  Whatever they are, were pretty confident that a bottle of Mad Dog Silver Collector's Edition can only improve the experience.  Ditto for your standard bologna sandwich.
If for some reason you're not into National Sandwich Month, then do then let us know which of our sauces goes best with your favorite holiday.