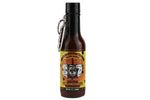 Love your hot sauce?
You may just want to consider buying your hot sauce online. It's more than just a convenience thing too. There are a few compelling reasons that you should buy your hot sauce online and delivery to your door is quite simply the beginning of the benefits.
You'll Get Plenty of Variety When You Buy Hot Sauce Online
Grocery stores can only stock so many products. Even the larger stores can't stock everything all the time. And that means you're missing out on a lot of tasty treats. Sure, you probably don't need another option when it comes to cold cut turkey or sliced white bread. But the hot sauce is different. There are commercial varieties that most people know and, therefore, the grocery stores stock those brands. And then, there are the artisanal hot sauces which are handcrafted – and sometimes need to come with a warning due to the Scoville housed inside each bottle.
Needless to say, you'll get extreme variety when you buy hot sauce online. That's because these brands, such as Ashley Food's Mad Dogs are more than the average shopper can handle. You'll find our products at some grocery stores, but not all of them. And, even when you do spot Mad Dog on the grocery shelves, you may not have access to the entirety of the line. You'll develop a whole new appreciation for the myriad of sauces you've never seen before, but only when you turn to online ordering.
You've Got Time to Research If You Buy Hot Sauce Online
Learning about new flavors that you never knew existed before is one of the coolest things that you'll pick up on when you buy hot sauce online. But, that's not the only thing. Gourmet hot sauces feature an incredible variety of flavors and certainly a range on the Scoville Scale. When you buy your hot sauce online, you've got time to check out the Scoville Heat Units, chat to the manufacturer about ingredients or storage. Whatever questions you have, you can sort before you buy.
This may not be a benefit that you think you need, but when you buy hot sauce online, you've got time to make considered decisions. That's terrific when you want a gourmet hot sauce. After all, it is unlikely that the guys over at your local grocery store will have the answers you need to the questions you have.
Buy Hot Sauce Online to Take Advantage of Discounts
Couponing may be a whole thing when it comes to nationally recognized brands and everyday items that you need. But artisanal hot sauces (at least those that aren't manufactured in your area) are not likely to participate in couponing schemes. But that doesn't mean you can secure discounts and stock up when there is a sale. It just means that you will need to buy hot sauce online rather than in your neighborhood grocery store. And don't worry, when you buy a brand like Mad Dog, you can be sure the packaging will be secure. Shipping super hot sauces is a serious business.
There Are Other Benefits Too
When you buy hot sauce online, you've got an opportunity to engage with the brand. That means that you'll be one of the first to discover a flavor that's not available on the grocery store shelves. And you can see just how much you'll save if you opt for a gift basket of Mad Dog Hot Sauces. You'll also be able to sign up for newsletters, check out online coupon codes advertised on Facebook, and a whole lot more too. In fact, there are so many benefits when you buy hot sauce online that we're sure you want to start now. How about ordering some tasty Mad Dog Hot Sauce today? (Just look for a flavor you've never seen on the shelves!).