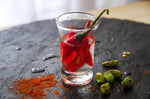 As if vodka wasn't a treasure in itself, infusing a bottle of vodka with red hot chili peppers is what leprechauns might find at the end of a rainbow.
You're definitely striking gold with this combination.
Here's how to get the best results!
Infusing might sound like a fancy word that includes extra work and labor, but frankly infusing vodka is easy peasy and results can appear in 24 hours or less.
Take a bottle of vodka, either one from the store, or place your desired vodka in a glass bottle. Place 2-3 small red chili peppers or 1 extra long chili pepper sliced and de-seeded in the bottle. Wait for 24 hours to get a good amount of heat in the vodka and then remove it. If you want a stronger flavor and even more heat leave the chili peppers in for longer, or indefinitely for decoration.
A bottle of chili pepper-infused vodka is a great hostess gift at your next party. Bright red chilies floating in a glass bottle of vodka is a unique presentation that will rise above the boring bottle of wine most people gift. Make sure you tell your friends to drink up, leaving the chili pepper in the bottle can lead to extra spicy vodka - dating each bottle might be a good idea.
For a more concentrated and fire-breath inducing cocktail, place a chili pepper (sliced and de-seeded) in a shot glass and quickly throw it back. Instant party!
Other uses for chili-infused vodka include Sunday morning Bloody Mary's that are extra spicy, spicy martinis using juice like passion fruit with a cayenne pepper rim, and even add it in lieu of plain vodka when you make homemade vodka pasta sauce. Makes the spaghetti extra spicy!