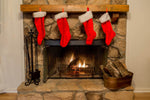 The end of the year is swiftly rolling to a close. Soon, the roads will be jam-packed with shoppers desperate to find the perfect gifts and stocking stuffers for their friends and family.
You'll begin to see more of those parcel delivery trucks on residential streets delivering the orders placed online. (We know it's hard not to see a big brown delivery truck on an ordinary day, but just wait until the weeks before Christmas.)
If you're like the majority of Christmas gift-givers, you've barely considered who should be on your list, let alone what you should be getting them.
Lucky you; super hot sauces make the best stocking stuffers - and you don't have to look any further to find them. You're already in the right spot.
The Stocking Stuffer Quandary
Christmas is big business in the United States. Mega-retailers and popular media go out of their way to reiterate the importance of spending and finding the right gift for everyone on your list. That's why you'll need to play Secret Santa at the office, and stuff stockings for your adult children. The out-of-town family will find themselves with gift baskets (which are equivalent to stockings without the socks themselves).
Plenty of folks find the larger, but ticket items easy enough. A lot of the running around and the stress is dedicated to those small things, the stocking stuffers and gift basket fillers. These items may be small, but they should be powerful.
That alone makes super hot sauces one of the best stocking stuffers out there. They always pack a hell of a punch, no matter how small the packaging.
Size and relative power aren't the only reason to pick up super hot sauces for stocking stuffers. Price is another compelling reason to take a look at the hot sauces on offer. More than that, it's like delivering a shot of good health.
Super hot sauces are remarkably healthy. They're bursting with antioxidants and vitamins. They also help curb appetites overworked through the busy holiday eating season. (Who doesn't need a little help staying away from all those cookies?)
Basically, using super hot sauces as stocking stuffers says you care. And, they make everything taste damn good.
Now, we will tell you that you shouldn't put super hot sauces into the stockings of children. (That's not to say that your children aren't ready for mild hot sauces, but you don't want to offer a couple of million Scoville. Really.)
Get Your Hands on Super Hot Sauces
Better still, you can be one of those homes with a big brown or white delivery truck almost perpetually parked in front. That's right, you don't need to battle the traffic and people on the hunt for the perfect stocking stuffers; you can get your super hot sauce stocking stuffers right here.