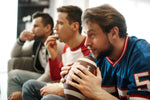 Fall is finally here, and that means another season of football and fiery foods on tap.
Just as the temperatures start dropping outside, armchair quarterbacks all across the nation are ready to heat things up with hot foods and hot sauce, cheering on their favorite teams. After all, what goes better with game day than a cold brew and a plate or two of spicy wings?
Hot wings are no doubt a diet staple for many of us when it comes to the big game of the week, and for good reason! Hot wings are the easy choice, whether you're watching from your own living room or tailgating outside the stadium with your portable grill. Just have a bottle or two handy of your favorite hot sauce to really spice things up for the crowd. You could also try some skewers dipped in Sriracha sauce, mix up a batch of scorching hot Sloppy Joes, or really mix things up with some spicy hot buffalo chicken dip or some fiery hot chips and cheese dip.
With football season here you don't even have to get all that creative to bring spicy foods into the mix.
There are all kinds of hot products already prepared and ready on the market, from ghost pepper-flavored popcorn to chili extract-infused beef jerky that's sure to set your mouth on fire. Other possible football crowd favorites could include grabbing a bag or two of habanero kettle chips, chipotle-spiced Chex Mix or even cutting up a pepper and using it to dip into your favorite hot sauce for an extra spicy dose of heat. Your game day menu may not always inspire a win for your favorite team, but it's sure to get you and your guests in the spicy hot food game where rules don't always apply.