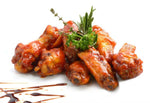 This year, 1.3 billion chicken wings were consumed on Super Bowl Sunday.
That's a three percent increase from the previous year.
And, it's enough for every American to have eaten four chicken wings on the day. Since we're well aware that there are plenty of Americans who had none, we have to be concerned about the number of chicken wings consumed by a few individuals.
Actually, we don't really give a damn about the number of chicken wings consumed. We're more interested in the flavor. Too many people waste their time with plain BBQ and Teriyaki wings for anyone to feel comfortable.
Still, we take comfort in the fact that another three percent increase in chicken wings consumption would bring us to 1,339,000,000 wings as we kick off the next Super Bowl game. We'll call it 1.34 billion for short, though, because that number is a bit too much to tackle.
And plenty of people are pushing heat limits when they eat chicken wings.
At least, we have to believe that.
And there's no reason not to kick off this football season with one hell of a kick – at least food wise.
We think it's a truly marvelous idea. After all, football means fall, doesn't it? And fall is when it's time to start thinking about comfort foods to keep you warm and happy while the nights are long and cold. Sure, it doesn't feel like that now, but it will.
You'll feel a lot warmer and happier if you just started increasing your chicken wing heat level now. You don't need to relegate yourself to chicken wings either; there are plenty of hotter than hell foods you can prepare to kick off this NFL season. Think nachos, spicy dips to go with all those chips, and why not a cocktail or two?
Because of the capsaicin found in foods with a chili kick, you can expect plenty of positive health benefits and a metabolism that just won't quit. (We can't promise the same for your favorite teams and players.)
In that light, we suggest you actually go all out. Set your sights high with a bottle of Mad Dog 357 Gold Edition and kick off on the right foot. Sure, you may only be able to add a single drop to a batch full of BBQ wings now. But, by the time we kick off the next Super Bowl with 1.34 billion wings, you'll really be ready to party.