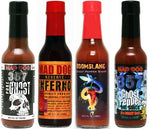 Incredibly Hot Chili Sauce: Gifts for Foodies
Christmas is around the corner, and that means that you're going to be frantically picking up those last-minute gift items. It happens every year; we know. You do try to stay on top of it, but then you're left scratching your head for ideas at the last minute. It's not because you're disorganized; it's that you want to find the very best gifts possible. Fear not. We're here to help. Mad Dog is incredibly hot chili sauce – and it makes a stunning Christmas gift for the foodies in your circle.
Just What Do You Get for a Foodie?
You know what foodies are like, right? You may even be one. Foodies shouldn't be difficult to buy for. After all, you know what they like – food, interesting and delicious food. But, somehow, it's always a challenge. That's because they'll pick up a clever kitchen gadget as soon as they see it. And those gift baskets of sausage and cheese take up a whole lot of space in the fridge at a time when there's very little room to spare. Cue the all-powerful, incredibly hot chili sauce.
Unlike ordinary hot sauce, incredibly hot chili sauce is the kind of thing that foodies flip over. Mad Dog sauces, for example, are hand-crafted gourmet condiments that will spice up any meal. They don't take up a lot of space – and more importantly, they will keep (unopened) on the shelf until all the company finally leaves at the end of the holiday. Clever, right?
Incredibly Hot Chili Sauce Is More than a Gift
Yeah right. We hear you scoff loud and clear, but we still say that incredibly hot chili sauce is more than a gift – it's a way of life. And, if you don't believe us, you should spend some time looking at all the different chili head forums in the world.
But, it's more than just a fan association like Trekkies have with Star Trek. Nope, incredibly hot chili sauce has the power to enrich your life physically. The wild amount of capsaicin found in Mad Dog hot sauces delivers a punch of health boosting power in every bite. And, you don't need that much of it to help with staving off tumors, alleviating headaches and assisting with appetite suppression. (And that's something that most foodies struggle with.) Incredibly hot chili sauce opens up a whole world of food enjoyment – and health benefits – and that's something that most condiments simply cannot do.
With Mad Dog, you aren't just gifting incredibly hot chili sauce; you're opening up a whole new side of life. Nice, eh?
If You Need a More Traditional Reason to Gift Mad Dog…
Of course, you may just be looking for a reasonably priced gift that comes in a pack that you can easily send to your brother on the other side of the country. We get that. And, as long as your brother lives life to the hottest, you can't go wrong with one of our Mad Dog gift packs. Each one comes with an incredible variety of sauces that foodies and chili heads drool over.
But, the clock is ticking. Christmas truly is coming up faster than you can believe. Shouldn't you be heading over to our online store to see what's available? Oh, and it's okay if you buy a gift pack for yourself too. In fact, we suggest it if you love incredibly hot chili sauce as much as your brother does.