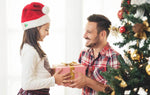 While it's hard to believe it's already prime holiday shopping season
It is a tricky time to find a gift for dad, or really any man in your life for that matter, the perfect gift. You've probably already tried out all the old standbys like socks, cologne, books, and coffee, so why not try getting dad something he'll really like this year! Forget the holiday cookies and holiday chocolates, even dads will say what they really want is hot sauce.
Lucky for you there are all kinds of spicy gift packs boxed up and ready to go for the holiday shopping season.
If you simply cannot decide which flavor is best, go ahead and let dad make the decision. A gift pack of seven delicious hot sauce flavors allows dad to try out a bottle packed with ghost peppers on Monday and fiery habaneros on Tuesday. Give the world's hottest sauce a whirl or stick with an original, when you give the gift of endless hot sauce-infused meals and snacks. Another option is a four-pack of super hot flavors including a hot sauce inspired by the Trinidad Moruga Scorpion pepper.
If dad's a pro when it comes to spicy hot flavors you can really heat things up this holiday gift-giving season with a gift pack of extracts. Of course, this gift is only for those dads ready to truly heat things up this season, so you'd better know just how hot of a gift pack dad can handle. Remember, it's the thought that counts this holiday shopping season, so be sure to give dad what he really wants before the year runs out. He'll love you for it, and you may even get to sample a little holiday spirit yourself. Just don't say we didn't warn you when you experience how hot the holiday season can get!