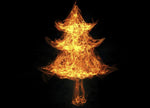 The end of the year is a special time – no matter what you believe, or where in the US you live.
Everything just takes on that festive air (until, of course, it gets to crunch time), and people are ready to have a good time. And that is exactly why you want to stock up on your super-hot chili sauces before the holidays. Don't worry if that doesn't make sense to you at the moment; it will soon.
Super Hot Chili Sauces Easily Transform Any Meal
Whether you have Thanksgiving at Aunt Betty's house or you host a Halloween potluck at yours, you constantly run the risk of exposure to bland, uninspiring food. You can just deal with that if you want, but we don't see why you should. After all, there does seem to be a lot of those events scattered through this side of the year. If you've got your super-hot chili sauce in check, you can avoid the terror of extended family gatherings and work parties. Plus, it's okay if you are suddenly known as the one with a super hot chili sauce addiction; you may just get a bottle or two at the office secret Santa game. (That's a lot better than last year, right?) And, you never have to tell Aunt Betty that she shouldn't be responsible for roasting the turkey.
You Can Have a Lot of Fun with Super Hot Chili Sauces
No, we don't mean that you should get Cousin Ernest to sample a scorching hot pepper extract as you roll a camera for a YouTube video. Well, if he wants to, then, by all means, do that – and then send us a video (unless, of course, Cousin Ernest is 10 years old; we'll never support that).
What we really mean is that super-hot chili sauces trigger the release of endorphins and happy hormones. The capsaicin that gives chili peppers their heat doesn't actually speak to your taste buds; that's the rest of the flavors in the sauce. Instead, capsaicin activates the pain receptors in your body. And once your brain experiences that, it releases happy feelings to help you deal with the pain. The more hot sauce you have, the happier you will be. And, you may just laugh at your uncle's jokes yet.
You'll Always Have the Last Minute Gift to Give
Now, if you only have one open bottle of super-hot chili sauce that you've already half-cleared through, you are going to run into a few different problems. For a start, you will not want to share when you've got people around. And if you do, you may just run out before you've had a chance to replenish your supply. But, it also means that you're likely to leave your one, precious bottle behind when you take it to a friend's place for the evening.
On the other hand, if you stock up on your super-hot chili sauces in advance you will avoid all these problems. And, you will also have a last-minute gift on hand for anyone that shows up unexpectedly. Of course, that depends on whether you have spare ordinary hot sauces, or you've bought artisanal sauces like the Mad Dog Collector's Edition. The latter is a gift, though you really cannot get away with handing off a bottle of Tabasco when your neighbor drops by with a small gift for you.
Keep the Holiday Weight Gain to a Minimum
The capsaicin found in super hot chili sauces will also help you when it comes to keeping the holiday weight gain to a minimum. Of course, nothing is going to help you if you overindulge like crazy, but adding super hot chili sauces to your meals will promote weight loss through thermogenesis and fat burning. It'll do double duty if you're planning on hitting the gym too, so feel free to slather it on generously.
And, if you are planning to give the gift of super-hot chili sauces this year, we do have some recommendations for you. Enjoy the season… as you live life to the hottest!