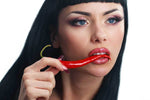 For the past few months, you've spent an inordinate amount of time obsessing over hot sauce and your collection of it.
Don't worry! That's entirely normal.
While there may be one or two people who push their hot sauce addiction to extremes, we're certain you're not one of them. Why? Well, to be honest, we've never met anyone who qualifies for an ultra-extreme hot sauce addiction title… and we've met every kind of chili head on the planet.
And, in any case, what is normal these days?
A Preoccupation with Heat Is Normal
There are people who thrive in cooler climates. That's what they enjoy most.
But, if you ask people living in places like Pittsburgh whether they prefer winter snow or summer heat, you'll quickly learn that warmth is the default answer.
No one thinks it's abnormal if someone chooses a tropical island over frozen tundra as a vacation destination.
Even on a surface level, a desire for warmth and heat is completely normal.
Pushing Yourself to the Limit is Normal
Sure, you'll find a number of people glued to their couch, taking in as many episodes of their current favorite show as possible.
Equally, there are plenty of gym bunnies out there – whether they're in the gym or running around the block. They're pushing themselves to extremes, even though they're not necessarily training for professional sports games or international competitions.
Interestingly, whether you're stuck into your sofa or training hard, both are extreme and both are considered normal in this day in age. And, both are even better when you add the additional extreme of Mad Dog super hot sauces to the mix.
The Need for Deliciously Fiery Food Is Normal
In many parts of the world, seriously scorching cuisine is simply the way it's done. And, yes, kids eat it too. Hell, you'll find your fair share of that in the United States, perhaps even in the kitchens of your own neighborhood.
Why?
Because in this time when nothing seems normal, the urge for fiery, ultra-delicious food is just what people need.