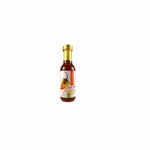 'Live life to its Hottest"
These words of wisdom are from Ashley Food Company the producer of  Mad Dog Ghost Fusion Oil. This makes perfect sense to us. Ghost peppers and canola oil, a simple combination that is complex in flavor and very hot. One million plus Scoville units, Bhut Jolokia Ghost Peppers that are processed in small hand mixed batches. This oil promises to heat up the kitchen and your taste buds. Let's give it a try.
Ingredients:
Expeller pressed canola oil and Ghost peppers. That is all she wrote.
Aroma & Texture:
This is an oil that has a beautiful pink pepper hue. The aroma is fairly neutral. I smell a canola oil type flavor but not much more.
Taste:
Straight out of the bottle is a challenge of heat. This oil is hot. Once the fire has subsided the flavor of Ghost peppers is very prevalent. The flavor is similar to a habanero. I believe it has a smoky component that makes this pepper complex. Wow, it is hot.
Overall:
Ashley Food Company has produced oil to showcase the Ghost Pepper in all its deadly hot glory. Straight out of the bottle should only be experienced by practiced Chileheads. Using restraint with the addition of other ingredients like olive oil can let the hot pepper challenged enjoy and experience the wonderful flavor of Ghost peppers. This oil will transform any dish into a Ghost pepper heat bomb. Mad Dog Fusion Oil will be a proud addition to our pantry.