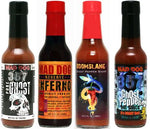 It's that time of year again.
The leaves on the trees are changing colors, bursting with the reds, yellows, and oranges so often associated with the hottest peppers on the planet. And, as they start to fall, it's time to consider the holiday season which seemingly begins on October 31st and stretches into the new year. It seems that everything becomes more frenzied as the temperature drops. And, what better way to kick-off the commotion than with a Mad Dog Halloween.
Now, obviously, we're not suggesting that you should dress up as a Mad Dog (though if you do, by all means, please send us a photo; that's something we'd love to see). And, we're not suggesting that your Mad Dog Halloween celebrations need to reflect a departure from your traditional festivities. After all, if you're into handing out the candy, or you're the one responsible for taking the kids around the block, you probably won't change. Or, if your holiday tradition is a costumed block party – that's all good. We're just certain that Mad Dog offers a sense of occasion that's both grown-up and tantalizingly exciting.
Celebrating a Mad Dog Halloween
Of course, we're suggesting that you add some Ghost Peppers to your life. And that's easy to do. You can make it a Mad Dog Halloween simply by picking up a bottle of either Mad Dog Ghost Pepper Hot Sauces (that's Ghost and Pure Ghost for the uninitiated). But, this year, there's a little something special to add to your celebrations. Ashley Foods has just released the Mad Dog Ghost Pepper Extract – Tequila Edition. And this ghost is set to scare the wits out of you; precisely what's meant to happen on Halloween, right?
You can add any of these to your cocktails or your chili dishes. And the hot sauces are perfect for burgers or even just adding to the pizza you have delivered for a quieter Mad Dog Halloween. And, if you're hosting a party anyhow, make sure you've got a Mad Dog hot sauce tasting station setups; you will be the talk of the town. Indeed, you can spicy up this spooky holiday in so many ways, as long as you're holding onto the fire that any bottle packed with Ghost Peppers can deliver. It's a perfect way to keep warm during the long cold nights of this holiday season, and ever so fitting with the first of the celebratory evenings.
Plus, a little Ghost goes a long way. You're not going to need a whole lot before you feel the fear creeping over you. Don't worry; it goes away (and so will some of the extra pounds if you continue to add Mad Dog to your meals all season long). In the aftermath, you'll not only feel as if you've cheated death but that you're willing to take on the long, frantic winter months.
So, what are you waiting for? Get your Ghost on now and make it a Mad Dog Halloween to remember. Really, it only takes a few drops to ensure that you never forget this holiday.