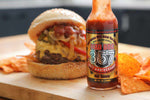 This might be the fiercest burger you'll ever meet.
Sure, it's simple enough to put together, but the heat is going to make your lips bleed a little. That's thanks to our Mad Dog 357 Gold Edition Hot Sauce. This succulent, meaty burger is proof that a little goes a long way.

We've tempered the heat, ever so slightly, with a little sour cream. But, it's inescapable, as it flows through both the patty and the fajita veggies, which you definitely don't want to skip.

All in, this burger has everything you want, and a hell of a lot more heat than you can handle. But, go on, you know you want it.

(Note: if your lips actually do start bleeding, you might want to be concerned.)

Serves: 4
You'll need:
For the fajita veggies
1 tablespoon vegetable oil
2 onions, sliced
2 bell peppers, sliced
a few drops Mad Dog 357 Gold Edition Hot Sauce

For the hamburger patties
1½ pounds ground beef
a drop Mad Dog 357 Gold Edition Hot Sauce
salt and pepper, to taste
1 tablespoon vegetable oil
4 thick slices cheddar cheese

For the burgers
4 hamburger buns, sliced open
¼ cup sour cream
4 handfuls corn chips
1 jar salsa

Preparation

To make the fajita veggies, heat the oil in a large skillet over medium heat. Add the onions, peppers, and a few drops of Mad Dog 357 Gold Edition Hot Sauce. Toss to coat and reduce the heat to low. Cook, stirring as needed until onions and peppers are soft and caramelized, about 15-20 minutes. Remove from the heat and set aside.

To make the burgers, mix the ground beef with a drop of Mad Dog 357 Gold Edition Hot Sauce and season with salt and pepper. Wearing gloves, shape into 4 hamburger patties. Heat the oil in another large skillet over medium-high heat. Add the hamburger patties and cook for 10 minutes on one side, flip the burgers, cook for another 6-8 minutes, and top with slices of cheese. Place a lid over the skillet for a minute to melt the cheese, then remove from the heat, but keep warm.

To assemble your burgers, spread the sour cream on the bottoms of the buns, top with the burgers, corn chips, fajita veggies, and a dollop of salsa. Replace the tops of the buns and serve.