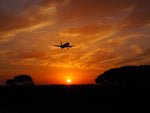 Mmm. Yum. Delicious! Those are not usually the words uttered in glee when describing airline food.
In fact, the only reason most flyers eat the bland, plastic food is that they need something to coat the taste of the stale peanuts on their tongue.
Of course, not all airline food is terrible, especially if you're lucky to score first-class tickets aboard some of the world's most elite airlines. In fact, some of the top chefs in the world are curating menus for first-class dining.
From Parisian to Italian to Japanese cuisine - there are many options aboard some of the most coveted journeys. While mashed potatoes and prime rib are tasty, the best meals are the daring, spicy dishes from international countries that aren't afraid to go the extra mile and actually spice up their boring airline dinner. Who wants to eat bread traveling from Vietnam, or Pizza traveling from Mexico, it's all about matching the cuisine with the journey.
Here are the top 5 spiciest meals served on airlines:
Szechuan-style Mandarin fish in garlic-bamboo sauce. Mandarin fish served in a spicy sauce with garlic and young bamboo. Accompanied with fragrant steamed rice and stir-fried vegetables. - First Class Flight from Beijing on Singapore Airlines (note: most of their dishes inspired by Asian cuisine are served with spicy chili sauce).
Smoke-grilled fillet of beef with a hot chili sauce - Lufthansa first-class flight from the U.S. (Midwest) to Germany.

Pork Basil. Stir-Fried Pork with Basil Leaf, Straw Mushroom, Red Chili, Julienne Garlic, Onion, Steamed Jasmine Rice, and Fried Egg -Thai airways first-class flight from Osaka, Japan

Otsukuri. Kombu kelp-cured sea bream with yuzu citron spicy pepper paste - All Nippon Airways First Class flight from New York to Narita.
Weeping Tiger Beef Salad. Chilled strips of tender beef fillet served on mixed crisp leaves, sweet mango salsa with coriander, hot red chili, and weeping tiger dressing. On all First Class Virgin Atlantic

Can't catch a flight, but want to have the same spicy experience at home? Try Mad Dog Inferno Hot Sauce to add to your next meal, recline in your chair and take a nap with a neck pillow.