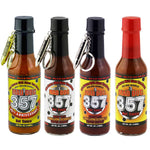 The big day is finally here! That's right National Hot Sauce Day is January 22nd
This year, we're celebrating with you. Well, technically, the Mad Dog team celebrates Hot Sauce Day pretty much every day, but we do get super excited about this national foodie holiday; so excited that we're offering consumers a special one day sale. But first, we should probably take a look at what we're celebrating.
Hot Sauce USA
Chilies have been around for ages and ages. They're not a new discovery. Indeed, there's evidence that chilies were harvested and traded in several regions of South America long before the Europeans made it to the continent.
But, the first commercially available, bottled hot sauce only appeared in the US in 1807 (in Massachusetts, mind you. It's not that people didn't love spicy food (remember that Columbus was responsible for bringing chilies back to Europe centuries before). Before this time, buying pre-packaged food simply wasn't done. You'd head off to the general store to buy grain to make your own bread and seeds to grow your own vegetables. Trading and sharing happened within small communities only. So, when hot sauce emerged in bottles, it was part of a larger food revolution. Though, it did take some time for the trend to kick in.
Consider that Tabasco only hit the market in 1868, and artisanal hot sauces only took off in the late 1980s. That's a long time for the market to catch on to the fiery goodness we know and love today. Of course, in the past 30 odd years, hot sauce producers – and consumers – have completely pushed the boundaries of this condiment. Today's hot sauces are hotter than most people can imagine, and they're more varied than most people realize. Just think of the first time you heard the word Sriracha, and then consider how popular this garlicky sauce is today.
Hot Sauce Is More Than a Burn
If you're like most chili heads, then you're after the burn. It's just so good when the tears are streaming down your cheeks, and you're forced to remove jackets and sweaters to cope. Even better is the buzz that lasts for hours after having a few Scoville too many (is there such a thing?). But part of the allure of hot sauces is the medicinal benefits that capsaicin offers.
Again, this is not exactly news. In 1877, hot sauces were touted for their health benefits by Chicago businessman William Railton. And, capsaicin has been used in traditional healing since chili peppers were first traded all those years ago. It's just that now, more scientists are catching on – and technology and testing have advanced to a stage where the effects of capsaicin can be better studied.
Celebrating National Hot Sauce Day
As a chili head, you likely know all this. What's more amazing is the number of people that just don't have a clue how incredible a good hot sauce can be. That's why we're so excited about National Hot Sauce Day 2015. It's a good chance to spread the flavor and the fire. And, to help you celebrate with your friends this year, we're having a special sale. We're looking forward to years of incredible industry growth – and we're sure you are too. So, happy Hot Sauce Day – we hope it burns you like crazy!
(Oh, and if you need a few recipe suggestions to celebrate, the Mad Dog team has you covered, just take a look at these tempting creations!)