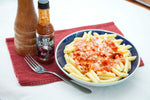 It's time for another foodie holiday, and this is one that just about every American can fully embrace.
Okay, we do understand that there are Paleo and gluten-free diets, but we're going to pretend – just for a moment – that those don't exist. January 4th is National Spaghetti Day, and we know that this is one dish that just about every American has had at one point or another. Some people have spaghetti frequently, perhaps even dousing it with a bit of hot sauce, just as we do.
Americans have a funny relationship with the word "spaghetti". In some homes, spaghetti means any pasta (such as macaroni or fettuccine). Other families say spaghetti to mean Spaghetti Bolognaise – which is the classic meat and tomato sauce served on top of spaghetti noodles. We understand. This dish is so popular (whether you add hot sauce or not) that it's rather expected to expand the definition of the word.
If you're interested in the definition of the word itself, spaghetti is the plural form of the word spaghetto. That's a single strand of spaghetti.
But, that's not all; spaghetto is the diminutive form for spago (which translates as "thin string"). In other words, it's a cute term, which isn't popular in the English language, but you'll find a lot of it in French and Italian.
Up until the latter part of the 20th century, spaghetti was sold in much longer strands. That Lady and the Tramp image you have in your mind could have actually happened – though likely without hot sauce… or the Disney dogs for that matter. When Spaghetti first became popular in American restaurants, it didn't have meatballs. Instead, Spaghetti Italienne was the dish of the moment – with a tomato and herb sauce topping the noodles.
Here's the thing about Spaghetti and the American culture though – this is one meal with distinctly Italian roots that we've embraced so completely that it obviously deserves its place in the foodie calendar. That's despite the fact that it has a long, long Sicilian history. Even though it's sold in shorter strands, it's still the same spaghetti people have consumed for centuries. The only thing that's different is the sauce we pour over it.
So how do you eat your spaghetti? Do you add a bit of Mad Dog hot sauce as we do? Or do you keep it a little more classic? After all, the Italians aren't typically regarded as a spice-loving culture (though they've absolutely added a great deal of depth to international cuisine). Now, we bet (if you're reading this) that you've been known to add some Mad Dog or Mad Dog Inferno hot sauce to your pasta in the past. We'd like to recommend that you try the new Mad Dog Reaper Sriracha hot sauce when you celebrate National Spaghetti Day. Trust us. It's amazing no matter what sauce you serve with your spaghetti.