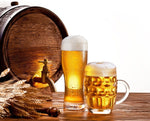 It's a little-known holiday, but December 10th is National Lager Day.
It's the perfect time for it too – after all, you probably kick back with a lager all summer long, but it might not be the first thing on your mind in the middle of winter. At Ashley Foods, we're big fans of National Lager Day, and this is why.
It's a Break from All Those Christmas Ales
By the time Thanksgiving passes, there are Christmas Ales on tap everywhere you go. They're one of the best parts of the holiday season. Whether you go for locally crafted seasonal ale when you head out on the town, or you pick up a 6-pack to bring back to your house for the game, it's become a tradition.
But, when it comes to National lager day, it's time to take a short break from the ales and sip on something a little less hoppy. Of course, after you celebrate, you're welcome to get back to your seasonal craft ales. After all, they are only around for a short few months – and you really don't want to miss out after refreshing your beer palate, do you?
You Might Be Able to Find a Chili Beer in Lager Form
Chili beer has become a big thing. It cuts across the chilehead community and beer lovers too. And, just like hot sauces, these babies are becoming hotter all the time. If you're planning to go big on National Lager Day, we think these should definitely be in the mix. They are, after all, the perfect blend of beer and fire – which is just not something you'll stumble on elsewhere.
We do have a small tip though, especially if you've never tried a chili beer; never buy just chili beer. You need to have a backup beer on tap, so to speak. Remember how much your mouth burned the first time you tried a super hot sauce? Mix that together with a liquid that moves it around to the back of your throat even faster and… well, we're just saying that you're going to want those spare, safe beers on National Lager Day.
Any Lager Goes Well with Mad Dag Ghost Pepper Hot Sauce
We're not making this up. Our Mad Dog Ghost Pepper Hot Sauce and the Pure Ghost go hand in hand with beer. Now, that's not to say that you can't pair these sauces with other tasty beverages. We're only saying that they work really well with lagers. If you've ever had a chip dip mixed with one of the Mad Dog Ghost Pepper hot sauces, you will know exactly what we mean. Somehow the fruitiness of the fruit complements lager like no one's business.
And, perhaps that's the number one reason that we love National Lager Day at Ashley Foods. This beer brings out the incredible depth of our hot sauces – and the beer makes for a good party too. You can't get that every day. Or rather, you shouldn't. But, you can always party it up with Mad Dog and lager on the 10th of every December. And, that's something to be grateful for.