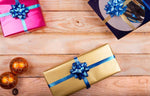 If you just can't seem to decide what to get the person on your holiday shopping list that seems to have everything, maybe you haven't looked far enough.
Sure you probably have hot sauce and hot pepper lovers on your list, but there's no room for ordinary this year. That's why we'll bet some of the newest holiday gifts to hit the market are sure to fit the bill.
Traditional bottles of hot sauce make great gifts, whether delivered in single bottles or gift packs, but just imagine the gift of super hot peppers all packaged up for your friends and family members on the go! For a more portable way to infuse a massive dose of heat no matter where you dine, how about gifting the newly released Mad Dog 357 Pain on a Chain. Because it's fairly new to the market you may be the first of your friends to get your hands on this particular gift.
Luckily there are three different options to choose from.
The Mad Dog 357 Pain on a Chain Ghost delivers a real dose of heat and flavor to your meal. It comes with a food-grade capsule keychain and around 20 refills, enough to start the New Year off right! There's also the super hot Mad Dog 357 Pain on a Chain No Escape. There's no excuse for an ordinary dish when you can add in the world's hottest pepper blend and a massive dose of heat, supplemented by Scorpion, Ghost and Reaper peppers. Finally, Mad Dog 357 Pain on a Chain Reaper not only makes use of the world's hottest pepper, but also packs it into an easy-to-use capsule keychain. While deciding which flavor to choose may be a hard decision, it may be even harder to actually gift the Mad Dog 357 Pain on a Chain, rather than just keep it all your own!