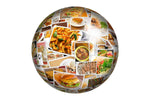 Hot sauce is truly a global phenomenon.
From all around the nation, to all across the world, hot sauce connoisseurs are constantly finding new ways to heat up everything from traditional mealtime to snacks and everything in between. It seems there's a cultural acceptance of hot sauce that knows no boundaries. Of course, you don't even have to leave home to take a flavor tour around the world.
Sriracha

is one of the hottest flavors in America right now, a trend that's been on the upswing for at least the last decade.

While Sriracha sauce is fairly new to the US, it's actually tied to Thailand. Commonly used as a dipping sauce, Sriracha is a favorite paired with seafood, stir fry, Ramen or used as a condiment for spring rolls. Louisiana-style hot sauce pairs perfectly with fried foods, but it also tastes great on just about everything else. To add a little Caribbean flair to your next meal, try using a hot sauce containing the Scotch bonnet pepper. Don't be fooled by the blend of sweet and spice, for this particular hot sauce is on fire! You can use it as a condiment, or to flavor meat, fish or chicken with a taste of the Caribbean.

Our neighbors to the south know how to flavor food, and Mexican hot sauce is packed with spice. Whether you go for a milder variety or a more intense hot sauce, it's the perfect kick of flavor for burritos, tacos and more. In the Middle East, meanwhile, hot sauce takes on the flavor of traditional spices, great for a marinade, glaze, sauce or dip. Frankly, it doesn't matter where you go or what you eat, there's surely a hot sauce out there that makes for the perfect match when it comes to experiencing great food and great flavor around the world.