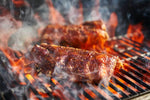 Nothing heats up a normal BBQ like hot sauce, and it simply goes without saying that so many BBQ-style foods taste even better with a dash or two of hot sauce.
Hot sauce makes a great marinade or topping for all kinds of meats, from smoked ribs to pulled pork, plus steak, chicken and everything in between. It's really no wonder then that hot sauce pairs so perfectly with spicy chicken wings, making a fall season tailgate or even just an ordinary kitchen appetizer that much more flavorful.
In fact, you'll find BBQ events all over the nation dedicated to mixing great BBQ with the flavor of hot sauce.
The annual Hot Sauce Contest & Pig Roast just wrapped up in Arlington, Virginia, a chance to try out hot sauce and BBQ in one convenient location. Also, just recently the massive Midwest Wing fest wrapped up in Illinois, pairing hot wings with a large music and food festival. In addition, there was also the National Buffalo Wing Festival, appropriately held in Buffalo, New York. It's the place where hundreds of thousands of people have tried out millions of spicy hot wings over the years.
Of course there are all kinds of BBQ events and festivals heating up over the next several weeks and months too. Looking ahead to 2019, the National Fiery Foods & Barbecue Show kicks off in Albuquerque, New Mexico in early March, a place full of fiery food contests, plus BBQ demonstrations and, you guessed it, samples. If you simply can't wait that long to get your own taste of hot sauce and BBQ, you can always pick up a bottle or two of your favorite flavors, and come up with your own fantastic recipe, mixing the two fan favorites for a meal or snack you surely won't forget.