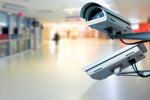 So, pepper spray has been a form of security for years.
The police use it and so do college girls. It's just that sort of a thing.
And why not? There are only a few non-lethal means of self-protection that return serious results.
Pepper spray is also what you're supposed to carry when hiking to deter bears from attacking – and in parts of the world, chili pepper bombs are under development.
So, it shouldn't be surprising that pepper spray is now used in security systems.
Yes, it's true. In South Africa, where there are a lot of break-ins, chili pepper spray is now used in security systems. And they work better than you would think. You see, most small South African businesses rely on independent security companies to keep an eye on their premises. If an alarm is triggered, the company's armed guards will respond – but that doesn't mean they'll be there as quickly as their ads might promise.
There's a constant stream of new technologies released to help combat crime in South Africa. And yet, pepper spray – one of the oldest tricks in the book – is also beginning to make headlines in the field of South African security.
This video from a store owner in KwaZulu-Natal, a province in South Africa, shows how a chili pepper alarm protected his shop from a burglary in the middle of the night. Okay, the perpetrators did manage to shatter a glass door – and they probably messed with the wall mount of the television they were trying to steal – but they didn't get away with anything.
They couldn't. They were far too overwhelmed by the pepper spray burning their eyes and scratching their throat.
You Really Shouldn't Try This at Home
No really, you shouldn't try this at home. And there are a few reasons for that. The first is that you probably don't have the skills to hook up a can of pepper spray to an alarm system.
The other reason is that you truly don't want this sort of protection in your home. You see, a blast of pepper spray will clear burglars from your home, but it will also send you running for the hills. You might stand outside your home alongside the criminals, coughing and gasping for breath.
And, just think about what happens when you accidentally trip your alarm.
What may just be crazier than pepper spray alarms is the fact that we craft these sauces with similar Scoville levels for your enjoyment. Eating hot sauce-laden food is definitely better than a blast of pepper spray in your eyes. But, whatever works, right?