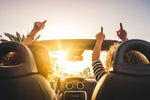 If your love for hot sauce is off the Scoville charts, then it might be time to take your love for the spicy condiment on the road….literally.
There are plenty of places in the great United States that cater to the hot sauce lover including museums and factories that can offer tours and greater education on how hot sauce is made and its history as well as a little taste of some of the best hot sauces in the country.
Vic & Wendy's Hot Sauce Museum, Sanctum, Gallery & Shrine: Glendale.
AZ - Vic Clinco owns the largest private collection of hot sauce in the US with over 8,000 bottles. He has some of the most obscure and small-batch made hot sauces offered (so you'll definitely find something you haven't see before). He is super smart when it comes to hot sauces, so make sure to pick his brain when you are looking for your ideal hot sauce to buy.
Sriracha Sauce (Huy Fong Foods) Tour: Irwindale, CA - Take a free 30-minute tour of the famous Sriracha Factory and learn firsthand how they make the popular spicy rooster sauce. You will learn the history of the company and get an insider's peek on how they fill their bottles, package them, and sort, wash and grind their chilis. The Rooster Shop is your one-stop-shop for all things Sriracha souvenirs including pajamas and tote bags. Cameras and Videos welcome. Reservations are required before attending a tour.
Tabasco at Avery Island: Avery Island, Louisiana - The iconic Tabasco sauce has their own island where they grow their own peppers for that past five generations. Upon visiting you will learn their dedication to protecting endangered species within their bird sanctuary and jungle gardens, their sustainable practices for farming, and of course all about Tabasco sauce. In addition to the museum, you can also tour the Greenhouse gardens of their pepper plants, sneak inside the barrel warehouse where they age their hot sauce, walk through their underground salt mine, and spend some green at the Tabasco Country store. Another treat? Restaurant 1868 is a casual, cafeteria-style eatery featuring entrees made with Tabasco sauce like Red Beans, Crawfish Étouffée, and Chili.
Uncle Sam's Pepper at Sparky's Burgers: Hatch, New Mexico - The green chili pepper is the official pepper of the state of New Mexico and what better way to see it in all its glory than by visiting Sparky's Burgers and witnessing the massive statue of Uncle Sam holding the state's favorite pepper. Inside you'll find a diner-style restaurant full of kitsch. Chiles dominate the menu with such entrees as Hatch Green Chile Cheeseburger, Chicken Sandwich topped with green chile & cheese, Chili Cheese Dog, Chili Mango Shakes, and Sassy Lemonade made with chiles.