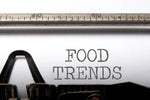 For about a month, just about everyone that can weigh upon the potential food, FMCG, and restaurant trends of 2016 has done so.
That's good news for smaller retailers looking to cash in on the research of others. And, it's good news for foodies ready to lead their crew in the ways of food trends for 2016.
So, what do we expect?
The Whole Damn Thing – As a society, we're trying hard to reduce our impact on the environment. A couple of years ago, this trend took the form of composting and ecologically responsible farming techniques. Today, it's about the whole damn thing. One of the biggest food trends of 2016 will impact vegetables and animal proteins across the board. You'll find more offal on the menu, and you might just have to gulp down the hardcore in the middle of your cabbage. Non-adventurous eaters will have a difficult time with this trend until they realize it's difficult to afford not to.
Ethnic Hots – Ask just about anyone in the food industry and you'll find consensus on the rapid inclusion of new, spicy ethnic flavors across the board. That means more Middle Eastern, more African, and greater width across the Asian scene. That means berbere, harissa, dikka, and sumac from North Africa and peri-peri from the rest of the continent. You'll also see sambals, gochujang, and ghost peppers from Asia, east and west.
Free from Everything – The people have spoken out against GMOs and hormone-fed foods. There are preservatives they don't want. Restaurants are doing everything they can to let their customers know they don't want those things either. Panera, for example, plans to cut a whopping 150 artificial flavors, colors, preservatives, and sweeteners from their menu before the end of 2016. And, they're just the trendsetters. Expect to see declarations on menus and commercials about the state of menus.
Delivery and Wages Will Lay the Foundation for Changes – Everything is on the path to delivery. If it's not Amazon, it's Uber. And there are dozens of smaller businesses in the middle. People are getting their food in boxes, delivered to their homes and offices. And then, there is the discussion over tips and wages. We may see an increase in menu prices already in 2016, but legislation about fair wages will likely take effect slowly over the next couple of years.
Hyper-Local and House-Made – It's been going this way for a while, but now everyone is demanding locally-sourced, seasonal ingredients when they can get it and super-high quality, homemade ingredients when there isn't a local option. This means specialty pickles and relishes alongside those craft beers and Mad Dog hot sauces.
We're certain you know which 2016 food trends we're most turned on by… though we're pretty intrigued to see how all of these play out in the new year. How about you?