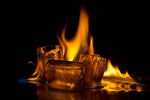 For most of the country, winter is a wild combination of the best and worst.
There are plenty of good times to be had all winter long, from Thanksgiving to Valentine's Day, but then there is the endless amount of shoveling and de-icing that must happen for those events to take place. For months, it will be damn cold but inside, you'll find roaring fires and hot chili con carne cooking in the kitchen.
If that's not your idea of a hot winter, maybe you should try a chili festival this January. While you may associate these events with the dwindling heat of September and October, there is plenty of fun to be had across the country this winter.
New Jersey Fire & Ice Festival
 The hot sauce and chili festival scene kicks off early in 2016 with the New Jersey Fire & Ice Festival on January 7. Held at the New Jersey Convention and Expo Center in Edison, New Jersey, this particular Fire & Ice Festival dedicates itself to the "art of mancaves, camping, and & backyard BBQs." But, let's be honest, that's something just about every self-respecting chili head can get behind… Yes, even the ladies (after all, who minds when the men retreat to other corners of the house every now and again). We just can't wait to see which hot sauces make it to the expo this year.
If New Jersey is a little far for you, just remember that the Chicago Fire & Ice Festival and Expo takes place between January 20 and January 24 at the Donald E. Stephens Convention Center in Rosemont, Illinois.
Zest Fest 2016 – If you want to get in on one of the most popular foodie events in the country, then Zest Fest 2016 is the place for you. From January 29 to January 31, the Irving Convention Center in Irving, Texas. With celebrity chefs, a fiery food challenge, and more exhibitors than you can imagine, this is the place to warm your winter heart (though we suggest adding some Mad Dog to your food if it's an emergency).
28th Annual National Fiery Foods & Barbecue Show – If you can hold off until March and you really want a taste of some of the best condiments and sauces on offer, then you may want to make your way to New Mexico. March 4-6 will see things really heating up at the Sandia Resort and Casino in Albuquerque. You'll find hot sauces, more hot sauces, and a few fiery BBQ sauces that will also tempt your taste buds.
With any luck, these festivals will keep you warm this winter. And, they should hold you over until April when the hot sauce scene becomes very hot. There are more festivals, more expos, and more ways to delight (and terrify) your senses once spring arrives; in the meantime, there's plenty of Mad Dog to go around.