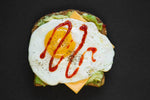 If you suffer from the early morning blues, it may be time to spice up your morning routine with a burning hot breakfast!
Sometimes it's tough to get going in the early hours, but that's no reason to start your day with a bland, tasteless meal. While a cup of coffee can definitely give you a caffeine boost, sometimes a cup or two isn't enough. That's when you know you need a real pick-me-up, and this one doesn't come in a mug.
We're talking, of course, about hot sauce.
You may think of hot sauce as the stuff hot wings and snacks are made of, and we certainly wouldn't disagree, but there's much more to like about hot sauce than simply making it only part of a late afternoon or late-night snack. Hot sauce can be a great topping for any meal, starting with the most important meal of the day. Breakfast sets the stage for the entire day and night, so you want to make sure you start things off right! With that in mind, try topping your next breakfast with some of your favorite hot sauce.  Hot sauce can act as the perfect pick-me-up, whether you're topping eggs, spicing up bacon, or you're tired of the same old French toast and ready to add some real zip to your meal. Hot sauce also works well in a zesty breakfast casserole or a breakfast burrito.
Hot peppers, the key ingredient of hot sauce, are packed with nutrients like Vitamin A and Vitamin C. Not only is it a good idea to start your day with extra nutrients, but the capsaicin in hot sauce is also said to boost your metabolism, helping you burn more calories and leaving you more satisfied, meaning you'll feel more full and be less likely to grab a snack before lunchtime rolls around.