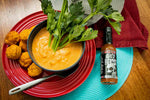 Ready for the soup of dreams?
What could be better than a tomato soup garnished and served Bloody Mary style? We've boosted the flavor with Mad Dog Pure Ghost Hot Sauce in the soup itself, but you could omit it in this part of the recipe to make it family-friendly. After all, you can add it when you transform it into your favorite drink. Better still, this recipe for about 10 people could even be served cool (like Gazpacho) if you omit the milk.
Brilliant!
Ingredients
For the soup
3 tablespoons Olive oil
2 each onion, chopped
2 sticks celery, chopped
2 each carrot, chopped
1 pound Potatoes, diced
4 each Bay leaves
½ teaspoon Mad Dog Pure Ghost Hot Sauce
5 tablespoons Tomato puree
2 tablespoon Sugar
2 tablespoon Red wine vinegar
2 cans (15 oz.) Chopped tomatoes
2 cups Passata or Canned Tomatoes blended
3 Vegetable stock cubes
4 cups water, boiling
1½ cups Milk
For the Bloody Mary garnish
Mad Dog Pure Ghost Hot Sauce
Worcestershire sauce
Vodka
Lemon wedges
Celery sticks
Preparation
Put the onion, celery, carrots, potatoes, and bay leaves in a pot. Add a splash of oil and sauté until the onions are softened.
Stir in the Mad Dog Pure Ghost Hot Sauce, tomato puree, sugar, vinegar, chopped tomatoes, and passata, and then crumble in the stock cubs. Add the boiling water and bring to the simmer. Cover for 15 minutes until the potato is tender, then remove the bay leaves. Puree with a stick blender until smooth.
Ladle soup into bowls and top with the Bloody Mary garnishes.